English version – Italian
Queer, music, dance and social stigma mixed together bring to life a new cultural dimension that escapes from mainstream trends and gives everybody the opportunity to shine, to be someone.

"This society – going to a football game, basketball – that's their entertainment. You know, a ball is ours. We prepare for a ball. We may spend more time preparing for a ball than anybody would spend preparing for anything else. You know, a ball is like our world. A ball, to us, is as close to reality as we're gonna get to all of that fame and fortune and stardom and spotlights."
From the documentary "Paris is Burning", 1990
Vogue, a word that certainly doesn't sound new. Well-know fashion magazine, unforgettable hit from the singer Madonna, but also emblematic artistic phenomenon that for decades has sparked the underground urban scene in many cities around the world.
This word not only refers to a contemporary style of dance, but it also indicates a sub-culture rooted in the queer, LGBT, working class black and latin communities of New York and other American cities. It combines various forms of self-expression, dance in the first place, but also music and fashion, with  political and social issues such as status, ethnicity and sexual orientation. However, the element that mostly characterises this cultural movement is the dance style: vogueing. It combines plastic poses and fluid movements performed with arms and hands, and, unsurprisingly, the name refers to the influential fashion magazine, as the moves and gestures aim at recreating those iconic poses.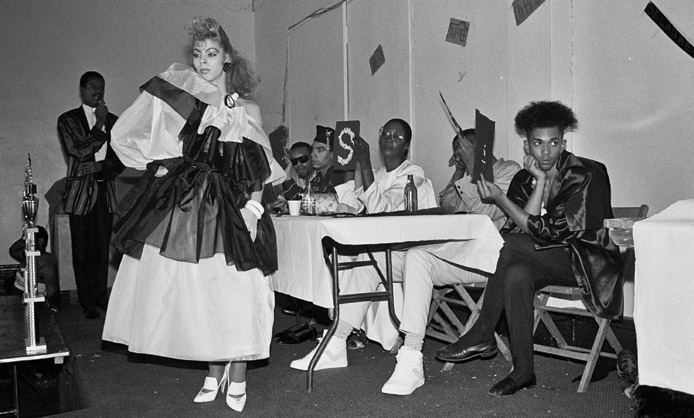 Unlike other dance styles come to light from urban sub-cultures such as hip hop or breakdancing – where performances take place mostly on the street – , the so-called "ballrooms" have a prominent role for vogueing. In these venues the various "houses" (crews of dancers organized hierarchically like real families) organize balls: competitions where the voguers or ball- walkers perform in different categories (e.g. Fantasy, Realness, etc.).
Since the Sixties vogueing has evolved in several different styles. The Old Way, popular before 1990, can be seen as a real fight between two rivals walkers. In the famous documentary on the Vogue culture "Paris is Burning", Willi Ninja says:
"Now, where street gangs get their rewards from street fights, a gay house street-fights at a ball. And you street-fight at a ball by walking in the categories."
The New Way style, characterized by geometric, articulate movements, was mainly performed during the first half of the nineties. It diverges consistenlty from another style, the Vogue Femme, more graceful and fluid, that since 1995 has evolved significantly creating two new subcategories: Dramatics, highly energetic acrobaticstyle and Soft and Cunt, more feminine and sensual.
Born from the working class communities of the american inner cities, vogueing expanded overseas.
In the United Kingdom the Vogue scene has spread from London to other cities like Liverpool, Manchester and Glasgow, where it recently regained a strong importance. Every year the city of Liverpool hosts the largest national Vogue competition, the "House of Suarez Liverpool's Ball". The event is organized by Darren Suarez, a professional dancer and mother of the House of Suarez.
For what concerns the capital, the best ways to be part of the London vogueing scene is to attend the House of Trax nights. These old-school parties are organized monthly in East London by the music label Trax Coture. It promotes club music such as Chicago, Detroit and Baltimore House, that have recently become prominent in the British underground electronic scene.
Thanks to professional crews of dancers, fashion shows and celebrities the vogue culture reached the whole world. At the beginning of the nineties Madonna (with her single "Vogue") and Malcom McClaren were the first to let vogueing be known outside the USA.
Lately the british singer, dancer, producer, choreographer and director FKA Twigs, whose reputation is growing exponentially worldwide, made vogueing the hallmark of her performances. Unwillingly she has become one of the main promoters of Vogue in the current music industry by performing with professional voguers as Benjamin Milan (mother of the House of Milan) in the acclaimed shows "Congregata" and in some of  her music videos.
In recent years, the artistic and expressive power of this style of dance has grown as never before, reaching the Far East. In particular, this culture in Japan is a real art and fashion trend. Aya Sato and Bambi, media-artists, dancers, choreographers and models have an incredible entourage. They organize workshops and take part in international art projects. Thanks to their talent and their originality, Aya Sato and Bambi were chosen by Madonna as backup dancers for her infamous performance at the Brits Awards 2015.  With no doubt these two artists will bring new interesting outlooks to the nipponic Vogue scene.
The artistic and conceptual mix of dance, fashion and music as forms of self-expression, make vogueing and, more generally, the Vogue culture a phenomenon of incomparable originality. Thanks to plastic poses and movements that often resemble those of a mime, Vogue put into direct contact dancers and spectators. It is a unique form of art that represents a political statement, not only it outlines social status and cultural background, it also unveils the desires, passions and dreams of an individual. As Madonna says:
"Life's a ball, so get up on the dance floor."
| The Factory | Celine |